Reversal Patients from Philadelphia, Pittsburgh, Harrisburg and throughout Pennsylvania

Why so many from Philadelphia, Pittsburgh, Harrisburg and throughout Pennsylvania choose ICVR
We have many men from Philadelphia, Pittsburgh, Harrisburg and throughout Pennsylvania who choose ICVR because they insist on the very highest chances for success with their vasectomy reversal, up to 99.5% at our full-time, reversal only center. Each doctor chooses to limit his practice to only one reversal a day so every patient receives the doctors complete focus and full, undivided attention to detail.
Of course, there are good urologists locally. With so much at stake, why settle for anything less than the best?
With almost 6000 patients from every state in the US and more than 78 countries around the world, when you do your research, you will quickly learn why our Center of Excellence is your smartest choice. And with babies from men as far as 42 years from vasectomy (the world record), ICVR offers you the highest success with the very best care, anywhere. No wonder so many travel to ICVR for their reversal.
Our experience and proven results makes the difference so you can achieve your dream of having children together. One our patients is a doctor in Philadelphia who had his first reversal locally, which was unsuccessful and then came here for a redo, now with gorgeous children. "
Sheldon H F Marks, MD
Consider that Dr. Marks and Dr. Burrows provide: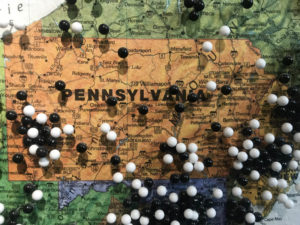 -Their personal cell phone numbers so you have direct access
– Pain-free surgery and recovery using mild IV sedation with no risky general anesthesia
– No additional charge for sperm banking
-Guarantee that your doctor will perform your entire reversal with no doctors-in-training involved
Dr. Marks is one of the few reversal experts that regularly teaches other reversal doctors his techniques at international courses and fertility society classes.
Call 888-722-2929 or contact us at info@dadsagain.com to arrange for a no-charge office, phone, Skype or FaceTime consultation with either Dr. Marks or Burrows, daytime, evenings or weekends! Learn why ICVR is the logical destination for men from Philadelphia, Pittsburgh, Harrisburg and throughout Pennsylvania, who insist on the having very best chances for success by the best vasectomy reversal experts.
There is a reason we are known for "Making Men Dads AgainTM."