Our Many Michigan Vasectomy Reversal Patients
Patients from Detroit, Grand Rapids and throughout Michigan come to ICVR because they understand that it makes sense that you will get the very best vasectomy reversal success only by the very top experts. At America's leading full-time, reversal only center, Drs. Marks and Burrows achieve up to 99.5% success.
How can this be so high? We perform reversals every day, Monday through Friday, and nothing else! And because each doctor limits his practice to just one reversal each day and we do not allow residents or medical students in training to participate in your surgery, you can be assured that you will always get your doctor's full and undivided attention.
With 24/7 direct cell phone access and no charge for sperm banking and our full-time andrology lab are just some of the reasons why so many from throughout Michigan have trusted the doctors of ICVR for decades to do their vasectomy reversal.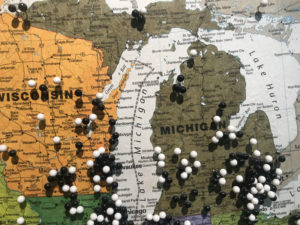 At ICVR, reversals are all we do!
Why settle for anything less than the best?
As one of the busiest centers in the world, with almost 6000 vasectomy reversals, we have patients that travel to ICVR daily from every state in the US and more than 78 countries around the world. This includes very challenging redo reversals, where we repair failed reversals from other doctor's first attempts. Many of our vasectomy reversal patients are more than 15 up to 42 years from vasectomy, still with the highest chances for success and fertility. In fact, we hold the world record at 42 years from vasectomy to successful reversal!
We use mild conscious anesthesia to keep you safe and sleep comfortably without the risks of a deep general anesthesia. In fact, most men tell us that their reversal was essentially pain-free, and most don't even ask for a single Tylenol.
We are available at info@dadsagain.com or 888-722-2929 to answer any questions and schedule your no-cost phone, Skype, Face Time or face-to-face consultation with one of our two reversal microsurgeons.