Our Surgical Reversal Suite
When we designed our vasectomy reversal practice, the dream was to create the world's best reversal center with a state-of-the-art operating suite. This was built and is used exclusively for vasectomy reversals. No one else is allowed to do any other cases in this room, minimizing traffic and so reducing risks for infection while maintaining all the instruments, the surgical microscope and equipment in a pristine, "ready to go" condition. In fact, many top experts continue to come from around the country to look at our operating room to see what we have created.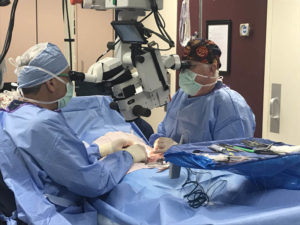 Designed from the ground up.
We initially brought in many experts from many fields – nurses, anesthesiologist, lab directors, surgeons – and designed, built and equipped our new operating suite with all of the cutting-edge advances to be able to give our patients the very best reversal success. Naturally this included many safety features to ensure the absolute best care possible.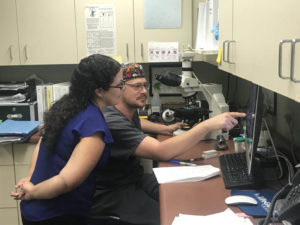 Andrology Lab.
Our surgery suite is physically adjacent to our andrology lab so that as we can hand fluid, slides and obtain specimens for banking directly to Matthew, the andrologist. Most reversal doctors don't even have their own lab and so have to ask lab people to come in specifically for the reversal to pick or process up specimens.
Other doctors may have an andrology lab but it may be on a different floor of that building or may even be in a separate building nearby.
Best of the best.
So, whether you notice the high end surgical grade flooring, operating room paint, special ceiling tiles, the the Leica surgical microscope or top-of-the-line cardiac monitor to keep constant track of your oxygen, carbon dioxide, blood pressure, etc., the good news is that in everything we use, whenever we need something, the rule is always "what's the best for the patient and for results?"
If you have any questions, or you want to schedule a consultation with one of the surgeons, please call us at 888-233-9907 or email info@dadsagain.com