Our Reversal Patients from United Kingdom and Europe
Our Reversal Patients from United Kingdom and Europe to include Ireland, Italy, Germany, France, Spain, Denmark, Belgium, Austria, Netherlands, Switzerland, Sweden, Poland, Hungary, Slovakia, Czech Republic, Croatia, Albania, Romania, Morocco, Turkey, Portugal, Ukraine, Latvia and Lithuania.
Many of our almost 6000 patients from the UK and throughout Europe choose ICVR because of our proven and published success up to world class 99.5% at our full-time, reversal only Center.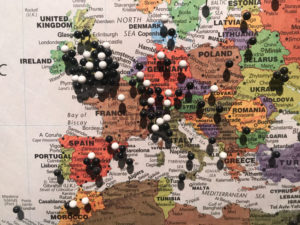 Patients from more than 78 countries around the world and every state in the US understand that Drs. Marks and Burrows are true international experts, providing the very highest vasectomy reversal success. And with world-record success at 42 years from vasectomy (now with a 17-year-old daughter in the Philippines), the number of years from vasectomy is not a major issue.
Considering what's at stake, why should you settle for anything less than the best?
Even though there are doctors locally that will do your reversals, there is a reason why ICVR is the destination of choice for so many couples from the UK and throughout Europe that want the highest chances to achieve their dream of having children after vasectomy.
Here at ICVR, Dr. Marks and Dr. Burrows each choose to limit their practice to only one reversal each day. This way, you know that as their sole reversal patient that day, you get their full attention to detail. We are not rushed to get to another reversal.
There are many other reasons to choose ICVR to include:
– Sperm banking at no additional cost
– We do not allow doctors-in-training to participate in your surgery
– Pain-free mild sedation so you sleep comfortably without the risks of deeper general anesthesia
– Dr. Marks is one of a handful of experts that actually teaches other reversal doctors from around the world advanced surgical techniques, writes courses and textbook chapters and actually invented an instrument used in many countries, the "Marks Vas Cutting Forceps."
Contact us to learn how you can have the very best chances for success with the very best vasectomy reversal experience, anywhere.
Because we are a top international referral center, we see men from the UK and throughout Europe for a redo vasectomy reversal, because their first reversal done by a local doctor was unsuccessful.
Contact us at 888-722-2929 or info@dadsagain.com to arrange a no-charge phone, Face Time, or Skype consultation with one of our two microsurgeons. Get answers to your questions, and discover how you can learn how we are "Making Men Dads Again tm."