Our vasectomy reversal patients travel to ICVR from throughout Africa including Ethiopia, Eritrea, Mozambique, Madagascar, South Africa, Kenya, Democratic Republic of Congo, Cameroon, Nigeria, Ghana, Cote D' Ivoire and Morocco because we offer the highest success, up to 99.5%.
With almost 6000 patients and successful reversals as far out from vasectomy as 42 years (the world record), we are the destination for men from more than 78 countries.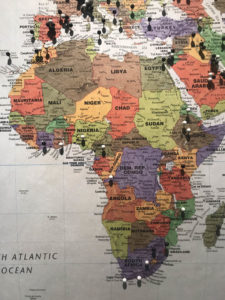 Plus, our reversal experts actually write the courses and teach other reversal doctors internationally about advanced reversal techniques. Dr. Marks even had a reversal instrument he invented named after him, the Marks Vas Cutting Forceps, used by doctors around the world.
We encourage you to do your research and learn what makes the International Center for Vasectomy Reversal your most logical choice.
Other reasons include:
1. Each doctor will perform only one reversal a day so you don't have to worry that your doctor is under pressure to move to the next reversal, nor is he fatigued from earlier surgeries. You are the patient that day.
2. You can trust that only your doctor will perform your reversal, as we do not allow doctors-in-training to participate in your surgery or care.
3. We offer sperm banking at the time of your reversal, at no additional charge, which saves you many thousands of dollars.
4. We offer a fixed cost with no surprises or hidden fees, so common with many other doctors.
And to keep you comfortable and pain free, we use mild sedation so you sleep during your reversal and avoid the rare but serious risks of deeper general anesthesia.
Call 888-722-2929 or email info@dadsagain.com to find out more or to set up a no cost phone, FaceTime or Skype consultation with one of our two reversal experts.