Many of our reversal patients travel to ICVR from Miami, Jacksonville, Tampa, Orlando, St. Petersburg and throughout Florida for our high success up to 99.5% as well as amazing care before, during and after at our full-time, reversal only center.
Reversals are all we do!
Of course, there are some excellent and respected doctors in Florida such as Dr. Ramasamy or Dr. Parekattil. Even with this, we have many patients that do their research and choose to come to see Dr. Marks and Dr. Burrows. In fact, we have almost 6000 patients from every state in the US and more than 78 countries around the world.
Here at ICVR, each doctor will perform only one reversal a day so that you know you are getting his full focus and attention to detail, and that he is not fatigued from earlier reversals nor pressured to move fast to get to surgeries to follow.
Why should I consider coming to ICVR? Here are a few reasons: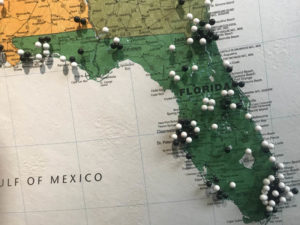 -Your surgeon performs your entire reversal – no doctors in training are involved in your surgery or care.
–No general anesthesia is used and so you avoid all the rare but serious risks. Instead we use mild conscious sedation to keep you sleeping comfortably pain-free.
-We provide sperm banking at no additional cost, saving you many thousands, just in case.
-You are guaranteed a fixed, all-inclusive, no surprise up front price whether we perform a vas-to-vas or the more challenging vas-to-epididymal bypass. No hidden fees at ICVR.
We encourage you to take the time and ask the tough questions to help you decide who will give you the very best chances for success.
With so much at stake, why settle for anything less than the best?
Call 888-722-2929 or email info@dadsagain.com to set up a no charge phone, Skype or Facetime consultation with one of our two microsurgeons.