Patients from Los Angeles, San Fernando Valley and Southern California
Our patients from throughout Los Angeles, Long Beach, Newport Beach, Beverly Hills, Anaheim, Santa Ana, the San Fernando Valley and all of Southern California travel to ICVR frequently for their reversal, as they want the highest chances for success and the very best results.
We are one of the country's only full time, reversal only "center of excellence" with a proven, published success up to 99.5 %, two micro-surgeons with almost 6000 patients from every state in the US and more than 78 countries around the world. And with world record success as far out as 42 years from vasectomy, the number of years since your vasectomy is not a major issue.
Of course, there are local reversal doctors that will do a good job. Even with that, why do so many from LA and Southern California do their research and choose to come to ICVR? Reversals are all we do!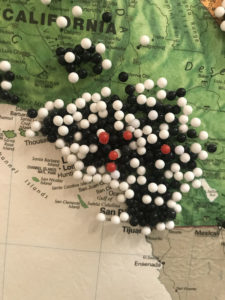 "ICVR is focused on one purpose, one goal – to give you the
absolute best vasectomy reversal anywhere and the very best
medical experience you have ever had or will ever have."
Sheldon H F Marks, MD
Every employee is here to give you the very best care before, during and after your reversal. We are not distracted by care for other non-reversal issues such as ED, prostate, kidney or bladder problems.
Reasons why so many choose Dr. Marks and Dr. Burrows for their reversal:
– An all-inclusive, "no surprise" price
– No medical students or doctors-in-training are involved in your care or surgery
– You get both doctor's personal cell phone numbers
– Sperm banking at no additional cost
– No risky general anesthesia! Instead, you sleep comfortably with mild sedation so the procedure and recovery is pain-free!
So that you can be assured that you get our full attention to detail, each doctor chooses to limit his practice to only one reversal a day.
Dr. Marks is one of only a handful of top experts that actually teaches other reversal doctors advanced surgical techniques and tips, as well as writing book chapter and training modules on vasectomy reversals. Plus, he has a surgical instrument he invented named after him, the "Marks Vas Cutting Forceps," used all over the world!

With so much at stake, why settle for anything less than the very best?
Call us 888-722-2929 or contact us at info@dadsagain.com to find out more about how we can help you to be part of our growing family "Making Men Dads Again TM."