Many of our almost 6000 patients travel from Mexico City, Tijuana, Nogales, San Carlos, Monterrey, Guadalajara and throughout Mexico, Belize, Guatemala, Honduras, El Salvador, Nicaragua, Costa Rica and Panama to our full time, reversal only center here in Tucson, Arizona because we offer up to 99.5% success in men, with children even as far out as 42 years from vasectomy (the world record)!
With patients from every state in the US and 78 countries around the world, ICVR is the logical choice for men that do their research and want the very best chances for a successful vasectomy reversal.
Here are some of the many reasons why we are the leading reversal center of excellence: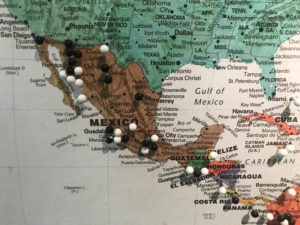 -We offer a no surprise, all-inclusive fixed price that does not go up if we have to do the more challenging bypass technique.
-We avoid risky general anesthesia and instead provide a pain-free surgery and recovery with mild sedation, so you sleep comfortably throughout the reversal.
-You can have sperm banked at no additional charge, saving you many thousands of dollars.
-You can trust that your doctor will do your entire surgery as we do not allow doctors-in-training to participate in your surgery.
Plus, the doctors of ICVR actually write the courses and teach other doctors at international conferences about how to perform reversals. We also invent new techniques and even have an instrument we invented named after Dr. Marks, the "Marks Vas Cutting Forceps."
When you come to ICVR, you know you are getting the very best. Each doctor limits his practice to one reversal a day so that you can trust that you get his full attention to detail and unlimited focus.
Why settle for anything less than the best?
Call 888-722-2929 or email info@dadsagain.com to find out more or to schedule a free phone, office, FaceTime or Skype consultation where you can talk and ask questions directly with Dr. Marks or Dr. Burrows.