Reversal Patients from Minnesota, Iowa and Wisconsin
Our Reversal Patients from Minneapolis, St. Paul, Milwaukee, Madison, Des Moines, Cedar Rapids and throughout Minnesota, Iowa and Wisconsin
Many men come from Minnesota, Iowa and Wisconsin to ICVR, one of America's top vasectomy reversal centers because of our proven, published success of up to 99.5%. With almost 6000 patients from every state in the US and more than 78 countries around the world, our full-time reversal only center is a leading center-of-excellence.
Dr. Marks and Dr. Burrows have successful reversals up to 42 years from vasectomy (the world record). We see men Monday to Friday as one of the top destinations for couples that understand there is no reason to settle for anything less than the best.
"ICVR is focused on one purpose, one goal – to give you the absolute best vasectomy reversal anywhere and the very best medical experience you have ever had or will ever have."
Sheldon H F Marks, MD
We avoid the use of risky general anesthesia and instead use a mild IV sedation so you sleep comfortably and pain-free. In fact, most men don't even ask for a single Tylenol afterwards!
Most doctors that do reversals are not true experts, and so can't master the critical microsurgical skills necessary for the reversal. Surprisingly, many are not even trained in urology and urologic microsurgery, one of the most technically challenging surgeries in all of medicine.
Of course, there are several respected and talented reversal doctors in Minnesota, Iowa and Wisconsin. So then why should anyone consider coming to ICVR? Experience matters!
We do your entire reversal, and since we don't let any doctors-in-training participate in your surgery, you can trust that you will get the very best chances for success.
Some reasons to consider Dr. Marks and Dr. Burrows for your reversal include: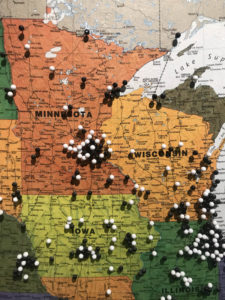 – Each doctor limits his practice to one reversal a day
– We offer an all-inclusive, no surprise package price
– You get both doctors personal cell phone numbers
– Sperm banking is available at no additional cost
Our motto says it all, "We Make Men Dads AgainTM."
For more information or to arrange a no charge phone, Facetime or Skype consult contact us at 888-722-2929 or info@dadsagain.com. Consultations are available days, evenings or weekends.