Reversals on men from Chicago and throughout Illinois
We regularly see couples from Chicago, Peoria, Springfield and throughout Illinois here at ICVR because of our very high chances for success, as high as 99.5%, and as far out as 42 years from vasectomy (the world's record).
We are able to achieve this high success because we are a full time, reversal only Center with patients Monday through Friday who travel here from every state in the US and more than 78 countries around the world.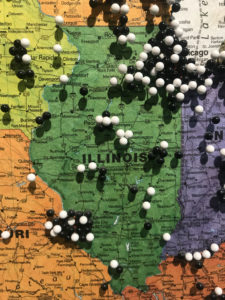 "We are honored to care for so many men to provide the absolute best reversal possible with what, they often tell us, is the absolute best medical experience that they have ever had!"
We provide to our patients:
– The most advanced multi-layer microsurgical connections
– Pain-free surgical experience and recovery with mild IV sedation and no risky general anesthesia
– Sperm banking at no charge
– No doctors-in-training participate in your surgery
With 2 active micro-surgeons (Dr. Sheldon Marks and Dr. Peter Burrows) and almost 6000 reversals, our doctors are true experts. Of course, there are excellent doctors locally such as Dr. Niederberger and Dr. Brannigan who our doctors know and respect. If you have a reversal by one of these or other true experts you will get a good reversal. When you consider that we offer an all-inclusive fixed no surprise package price that is usually a fraction of what you would pay to stay local, many from Chicago and throughout Illinois travel to ICVR for their reversal.
There is a difference. Because it makes a difference.
We encourage you to call 888-722-2929 or contact us at info@dadsagain.com and discover what makes ICVR a logical choice for your vasectomy reversal for men from Chicago and throughout Illinois.