Our Many Ohio Vasectomy Reversal Patients
As you can see from our map, many of our thousands of patients come to us from Columbus, Cleveland, Cincinnati, Toledo and Akron and throughout Ohio. They choose ICVR because of our proven success up to 99.5% at our full-time, reversal only Center.
What's even more amazing is that we have patients from every state in the US and more than 78 countries around the world who insist on the very best vasectomy reversal success so they can achieve their dream of having children after vasectomy. With almost 6000 patients and world-record successes as far out as 42 years from vasectomy, many consider ICVR to be one of the best.
Considering what's at stake, why settle for anything less than the very best?
Our doctors will be the first to tell you that there are respected top-tier doctors locally, yet there is a reason why ICVR is the destination of choice for so many couples from throughout Ohio that want the highest chances to achieve their dream of having children after vasectomy.
At ICVR, Drs. Marks and Burrows each choose to limit their practice to only one reversal each day so you know that you will receive their get their undivided focus and attention to detail. The day you are here, the entire team has only one purpose, one goal– to give you the very best reversal possible.
With so many choices, why do so many choose ICVR?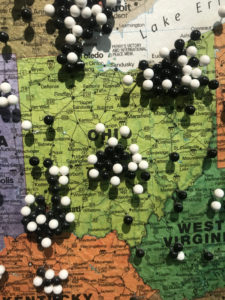 – Sperm banking with one year of storage at no additional cost
– No answering services- you get both doctor's personal cell phone numbers
– We do not have any doctors-in-training involved with your reversal or care
– Pain-free mild sedation so you sleep comfortably without the risks of deeper general anesthesia. In fact, most men don't even ask for a single Tylenol afterwards
Call us so we can talk, at no cost, about your specific situation, answer your questions and start the process towards fatherhood after vasectomy.
We can be reached at 888-722-2929 or info@dadsagain.com to arrange a complimentary phone, Face Time, or Skype consultation with one of our two microsurgeons. Discover how we are "Making Men Dads Againtm."